04 Dec

Wild Africa Promo and Special Offers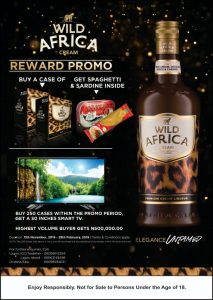 TERMS AND CONDITIONS FOR WILD AFRICA PROMO
Participants for the wholesale reward promo MUST buy a minimum of 750 cases and a Minimum of 50 cases stock balance at the end of the promo before getting the N500,000 cash reward.
To merit the 50inches TV, the participants must have a minimum of 50 cases stock balance to earn the reward.
Promo runs from 11th of November 2019 to 29th December 2019.
Kindly note that terms and conditions apply.